Welcome to another week of Waiting On Wednesday! (Okay, it's an hour early, but I'm sleepy and want to drop the link off at the round-up!)
Waiting on Wednesday is hosted over at
Breaking The Spine
, and is a chance for people to share those books that we're most looking forward to.
Today I have something from one of my absolute
favourite
authors ever, Seanan McGuire: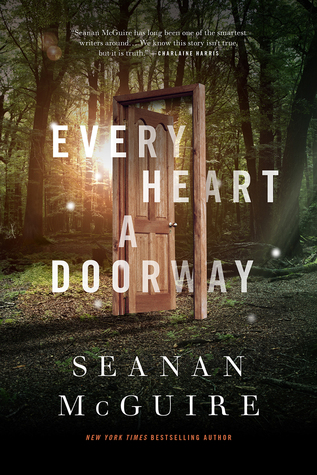 Every Heart A Doorway
is due out on April the 5th, 2016, and here is the summary:
Eleanor West's Home for Wayward Children
No Solicitations
No Visitors
No Quests

Children have always disappeared under the right conditions; slipping through the shadows under a bed or at the back of a wardrobe, tumbling down rabbit holes and into old wells, and emerging somewhere... else.

But magical lands have little need for used-up miracle children.

Nancy tumbled once, but now she's back. The things she's experienced... they change a person. The children under Miss West's care understand all too well. And each of them is seeking a way back to their own fantasy world.

But Nancy's arrival marks a change at the Home. There's a darkness just around each corner, and when tragedy strikes, it's up to Nancy and her new-found schoolmates to get to the heart of the matter.

No matter the cost.
UGH, it sounds so good!! I put in an ARC request for this on Netgalley and I'm crossing my fingers so hard, but regardless, I am going to be reading this book as soon as it comes out!
Seanan is one of those authors where you wonder how on earth she does it. First, she is amazing versatile - she writes contemporary fantasy under Seanan McGuire, but then she also writes zombies and science-fictiony stuff under the name Mira Grant. She currently has...three series on the go, last count, and she usually has 1-2 books release a year.
She is amazingly talented and all around awesome, and I highly suggest all of you check out her
October Daye
series as well as her
Newsflesh
series under Mira Grant. I'm super excited for this book to come out!!